1)Scientific Research Projects
No.

Project Name

Funds

Amount

(CNY ×10 thousand)

Time

Author Sort

Completion Status

Remarks

1

Structure Coordinated and Performance Study of New Multiple Shielding Radiation Proof Cement

Key Projects of China National Natural Science Foundation

80

2016-2019

1/8

In study

21571056

2

Studies of EBSD on C3S (sub) Crystal Boundaries, Defects, Crystallographic Orientations, and Grain Boundaries

China National Natural Science Foundation

31

2011-2013

1/10

Done

21071050

3

Performance Study and Structure Coordinated of New Multiple Shielding Radiation Proof Cement

Science Director Fund, National Natural Science Foundation of China

10

2013-2013

1/10

Done

21241007

4

Key Technologies for Preparation of Radiation Shielding and High Gelling Cement

Key Projects of Natural Science Foundation of Hubei Province, China

10

2012-2013

1/9

Done

2011CDA009

5

Green Ecological Industrial Solid Waste and Cement Integrated Grinding Technology and Equipment

Major scientific and Technological Innovation Projects of Hubei Province, China (Key Technology Development)

200

2015-2018

-

Done

6

High and New Technology of Deep Recycling Comprehensive Utilization of Copper Mine Tailings

Major scientific and Technological Innovation Projects of Hubei Province, China (Key Technology Development)

250

2014.7-2017.7

1/12

Done

2014ACA042

7

High Efficient Extraction and Harmless Cleaning and Disposal of Valuable Metals from Steel Slag

Science and Technology Supporting Program of Hubei Province, China

50

2013-2015

1/10

Done

2013BCA025

8

Green and Ecological Mineral Powder and Cement Common Integrated Grinding Technology and Equipment

Key Research and Development Projects of New Products and Technology, Hubei Province, China

10

2013-2014

1/9

Done

2012BCA20002

9

Research on the Integration of Science, Technology and Financial Capital in the Development of Hi-tech industry, Hubei Province, China

Science and Technology Association, Hubei Province, China

15

2011.12-2012.11

1/4

Done

HBKX2012ZCYJ04

10

Integration of Key Technologies and Equipment for Flue Gas Denitrification in Cement Kiln

Scientific and Technological Research Projects, Wuhan, Hubei Province, China

20

2013-2014

1/5

Done

2013060602010280

11

Transformation and Upgrading Thought and Measures of Heavy Chemical Industry, Hubei Province, China

Hubei Provincial Development and Reform Commission

3

2011-2012

1/4

Done

2011w068

12

Plan of Teacher Go Deeply into Enterprises

Hubei Provincial Department of Education

0.5

2011-2012

1/1

Done

13

Specified System of Intelligent Snow Proofing and Ice Resistant Pavement

863 Sub-projects of Ministry of Science and Technology of China

20

2008-2010

1/4

Done

2006AA11Z117

14

The Basis and Environment Analysis of the Economic and Social Development of Wudang Mountains in 12th Five-Year

Special Plan for 12th Five-Year

1.5

2010-2011

1/4

Done

15

Application of High Efficiency Energy Saving Grinding Technology and Activation Technology in Cement Industry

Key Projects of Industry-University-Research Cooperation, Hubei Provincial Department of Education

5

2010-2011

1/7

Done

No.6 Hubei Provincial Department of Education [2009], CXY2009B017

16

Study on Activity Excitation of Slag Based on Magnetization

Science and Technology Projects of Hubei Provincial Construction Department

2

2008-2010

1/6

Done

No.337 and 52, Hubei Provincial Construction Department [2008]

17

Study on Electron Backscatter Diffraction (EBSD) of C3S in Cement Clinker

Natural Science Foundation of Hubei Province, China

2

2008-2010

1/7

Done

2008CDB271

18

Study on Structure of Solid Body in Mesosphere Matrix of Cement Clinker by EBSD

Doctoral startup fund

5

2008-2010

1/8

Done

BSQD0828
2)Patents
| | | | | | | | |
| --- | --- | --- | --- | --- | --- | --- | --- |
| No. | Name | Approved By | Category | Patent No. | Inventor | Patent Holder | Remarks |
| 1 | Preparation Method and Application of a Magnetic Based Surfactant | State Intellectual Property Office of P.R.C | Invention | 201010123663.4 | Tian Jian, Chen kun | Hubei University of Technology, Wuhan Tianshu Technology Development Co., Ltd | 2010.11.30 |
| 2 | A GPRS Based Embedded-sensor and WEB Data Exchange Equipment | State Intellectual Property Office of P.R.C | Utility Model | 200920083309.6 | Liu Yaohe, Tian Jian, Xiong Jianmin | Hubei University of Technology | 2009.12 |
| 3 | The Cement Clinker Calcinations Apparatus for Differential Coals | State Intellectual Property Office of P.R.C | Utility Model | 20081786.4 | Li Jianxi, Tian Jian, Yusu | Kunming university of science and technology | 2009.7 |
| 4 | Plotting System for Lightning Rod Protection Range based on Ball Rolling Method V1.01 | National Copyright Administration of P.R.C | Computer Software Copyright Registration Certificate | 2000SR2784 | Tian Jian | Tian Jian | 2000.12 |
| 5 | An Active Agent Slag Cement Formula | State Intellectual Property Office of P.R.C | Invention | 94101331.6 | Tian Jian | Tian Jian | 1999.9 |
| 6 | The Preparation Method of An Active Agent for Raw Material Grinding | State Intellectual Property Office of P.R.C | Invention | 201110273458 | Tian Jian | Hubei University of Technology | 2012.12.05 |
| 7 | Activation Sieving Apparatus of the Ball Mill Compartment | State Intellectual Property Office of P.R.C | Utility Model | 201120371290.2 | Tian Jian | Wuhan Tianshu Technology Development Co., Ltd | 2012.5.30 |
| 8 | A Heat Block Double Sliding Shoes Mill | State Intellectual Property Office of P.R.C | Utility Model | 201120391189.3 | Tian Jian | Wuhan Tianshu Technology Development Co., Ltd | 2012.5.30 |
| 9 | A High Efficient Power Save Preparation Method of Slag Powder | State Intellectual Property Office of P.R.C | Invention | 201110371572.7 | Tian Jian | Wuhan Tianshu Technology Development Co., Ltd | 2013.7.3 |
| 10 | A High Efficiently Retrieving Tailing Method | State Intellectual Property Office of P.R.C | Invention | 201110432856.2 | Tian Jian | Hubei University of Technology | 2013.10.30 |
| 11 | Preparation Method of Radiation-Shielding Cement Clinker Mineral Phase System | State Intellectual Property Office of P.R.C | Invention | 201210200974.5 | Tian Jian | Hubei University Tianshu Industrial Research and Design Institute of New Energy Materials | 2013.6.19 |
| 12 | A High Efficiently Retrieving and Retreatment Method of Steel Slag | State Intellectual Property Office of P.R.C | Invention | 201210200634.2 | Tian Jian | Wuhan Tianshu Technology Development Co., Ltd | 2014.2.26 |
| 13 | Radiation Shielding Cement and Preparation Method | State Intellectual Property Office of P.R.C | Invention | 201410243401.X | Tian Jian, Zhu Bingbing, Wang Jindi | Wuhan Tianshu Technology Development Co., Ltd | On Trial |
| 14 | Green Ecological Industrial Solid Waste and Cement Integrated Grinding Technology | State Intellectual Property Office of P.R.C | Invention | 201410289143.9 | Tian Jian, Wang Jindi | Wuhan Tianshu Technology Development Co., Ltd | On Trial |
| 15 | Hierarchical Separator for Ultra-fine Powder | State Intellectual Property Office of P.R.C | Invention | 201410256747.3 | Tian Jian, Wang Jindi | Wuhan Tianshu Dust Removal Equipment Co., Ltd | On Trial |
| 16 | Dust Removing System for Treatment of High Temperature and Humidity Powder | State Intellectual Property Office of P.R.C | Utility Model | 201420383978.6 | Tian Jian | Wuhan Tianshu Dust Removal Equipment Co., Ltd | 2014.11.5 |
| 17 | On Line Dryer | State Intellectual Property Office of P.R.C | Utility Model | 201420333632.5 | Tian Jian | Wuhan Tianshu Dust Removal Equipment Co., Ltd | 2014.11.5 |
| 18 | Non-sintering Brick and Preparation Method of Copper Tailings | State Intellectual Property Office of P.R.C | Invention | 201510054902.8 | Tian Jian, Zhu Bingbing | Wuhan Tianshu Technology Development Co., Ltd | On Trial |
| 19 | Preparation Technology and Products of New Multiple Shielding Radiation Proof Cement | State Intellectual Property Office of P.R.C | Invention | 201510245737.4 | Tian Jian, Zhu Bingbing | Hubei University Tianshu Industrial Research and Design Institute of New Energy Materials | Accepted |
| 20 | Powder Hierarchical Separator for Multiple Shielding Radiation Proof Cement | State Intellectual Property Office of P.R.C | Utility Model | 201520311205.1 | Tian Jian, Zhu Bingbing | Hubei University Tianshu Industrial Research and Design Institute of New Energy Materials | Accepted |
| 21 | New Technology of Preheating Decomposition for Production of Sulfuric Acid and Cement from Phosphogypsum | State Intellectual Property Office of P.R.C | Invention | 201510429837.2 | Tian Jian, Zhu Bingbing | Hubei University Tianshu Industrial Research and Design Institute of New Energy Materials | Accepted |
| 22 | New Raw Material Integration Grinding Technology of Co-production of Sulphuric Acid and Cement With Phosphogypsum | State Intellectual Property Office of P.R.C | Invention | 201510429869.2 | Tian Jian, Zhu Bingbing | Hubei University Tianshu Industrial Research and Design Institute of New Energy Materials | Accepted |
| 23 | Wear Resistant Composite Coating, High-strength Wear Resistant Composite Copper Plate and Manufacturing Method | State Intellectual Property Office of P.R.C | Invention | 201510427490.8 | Tian Jian, Huang Hongqi, Yue Guangyong | Hubei University Tianshu Industrial Research and Design Institute of New Energy Materials | Accepted |
3)Published Papers (Books)
No.

Paper Title

Time

Journal or Press

Index

Author

Remarks

1

Crystal Chemistry of Silicate

2010.03

Wuhan University Press

ISBN 978-7-307-07619-8

Tian Jian

2

Key Technology of Cement Thermal Process and Energy Saving

2010.01

Chemical Industry Press

ISBN 978-7-122-06615-2

Ma Baoguo, Tian Jian

3

Studies on Geology of the Backfilling Fly Ash and the Foundation Treatments

2011

Advances in Civil Engineering and Architecture

ISBN-13:978-3-03785-125-8

Tian Jian, B. S. Xia, J. D. Wang, T. Wei

4

C3S Structure Studied by EBSD and Characterization Calculation of Its Nanometer Grain

2011.04

Journal of Synthetic Crystals

ISSN 1000-985X

Tian Jian, Wei Tao, Xu Haijun

5

Establishment and Calibration of C3S EBSD Database

2011.01

Journal of the Chinese Ceramic Society

ISSN 0454-5648

Tian Jian, Wei Tao, Xu Haijun

6

Applications of Efficient Energy-saving Cement Grinding Technology and Equipment

2011

Advanced Materials Research

ISBN-13 978-0-87849-201-5
ISSN 1022-6680

Tian Jian, Zhao Xiaoyu , Wang Jindi , Wei Tao

7

Extensity of C3S EBSD Database and Its Structure Calculation

2010.11

2010 2nd International Workshop on Database Technology and Applications

ISBN 978-1-4244-6976-5

Tian Jian, Wei Tao, Xu Haijun

8

Studies of Effect of Surfactants on Properties of Slag Cement Mortar

2010.06

2010 International Conference on Computing, Control and Industrial Engineering

ISBN 978-0-7695-4026-9

Tian Jian, Wang Jindi, Wei Tao

9

Study on C4AF Crystal Structure by EBSD

2012.1

Bulletin of the Chinese Ceramic Society

ISSN 1001-1625

Tian Jian, Wei Tao, Xu Haijun, Wang Jindi, Zhao Xiaoyu, He Jin

10

Research on Performance of Qatar Steel Slag Cement

2013.04

Bulletin of the Chinese Ceramic Society

ISSN 1001-1625

Tian Jian, He Jin, Wei Tao, Wang Jindi, Fang Dongjun

11

Gradient-decent Steel Slag Surface Energy Technique of Valuable Metal Segregation

2013.1

2013 Beijing International Environmental Technology Symposium

ISSN 9-783940-670403

Tian Jian, Wang Yang, He Jin, Yue Guangyong, Wang Jindi

12

Current Situation and Development trend of Radiation Cement

2014.7

Environmental Engineering

ISSN 1000-8942

Tian Jian, Zhu Bingbing, Wang Yang, Shen Shengwei, Tian Jing, Wang Jingdi

13

Current Situation and Development trend of Nuclear Power Utilization

2014.5

Power Supply Technologles and Applications

ISSN 0219-2713

Tian Jian, Zhu Bingbing, Zhu Yanchao, Shen Shengwei

14

New Raw Material Integration Grinding Technology of Co-production of Sulphuric Acid and Cement with Phosphogypsum

2015.8

Sulphuric Acid Industry

ISSN 1002-1507

Tian Jian, Zhu Bingbing, Zhou Yu, Pan Huangyu, Shen Shengwei

15

New Technology of Preheating Decomposition for Production of Sulfuric Acid and Cement from Phosphogypsum

2015.9

Phosphate & Compound Fertilizer

ISSN 1007-6220

Tian Jian, Zhu Bingbing, Tian Jing, Huang Hongqi, Ye Bin

16

Research Process on Preparation of Ultrafine Powder

2014.9

Environmental Engineering

ISSN 1000-8942

Shen Shengwei, Wang Yang, Zhu Bingbing, Tian Jing, Wang Jingdi

17

Hierarchical Separator for Ultra-fine Powder

2014.8

2014 the 6th Cement Powder Grinding New Technology Exchange Conference Proceeding

ISBN 978-988-13345-7-2

Tian Jian, Pan Huangyu, Hu Tanghui, Yue Guangyong, Zhao Xiaoyu

18

Application of Grinding Technology in the Disposal of Industrial Solid Waste

2014.8

2014 the 6th Cement Powder Grinding New Technology Exchange Conference Proceeding

ISBN 978-988-13345-7-2

Tian Jian, Shen Shengwei, Wang Jingdi, He Jin, Tian Jing

19

Internal Structure and Application of New Type Tube Mill

2014.8

2014 the 6th Cement Powder Grinding New Technology Exchange Conference Proceeding

ISBN 978-988-13345-7-2

Tian Jian, Huang Hongqi, Hu Tanghui, Yue Guangyong, Zhao Xiaoyu

20

Discussion on High Added Value Technology of Low Calcium and Low Quality Fly Ash

2014.8

2014 the 6th Cement Powder Grinding New Technology Exchange Conference Proceeding

ISBN 978-988-13345-7-2

Tian Jian, Ye Bin, Shen Shengwei, Zhu Bingbing, Tian Jing

21

Analysis and Method Discussion on Reducing Water Requirement of Cement Standard Consistency

2014.8

2014 the 6th Cement Powder Grinding New Technology Exchange Conference Proceeding

ISBN 978-988-13345-7-2

Tian Jian, Shen Shengwei, He Jin, Yue Guangyong, Ye Bin

22

Principle and Application of a New Type of Online Dryer

2014.8

2014 the 6th Cement Powder Grinding New Technology Exchange Conference Proceeding

ISBN 978-988-13345-7-2

Tian Jian, Yue Guangyong, Zhao Xiaoyu, Hu Tanghui, Wang Jingdi

23

Green Ecological Industrial Solid Waste and Cement Integrated Grinding Technology and Application

2013.5

2013 Cement Powder Grinding New Technology Exchange Conference Proceeding

ISBN 978-988-12060-2-2

Tian Jian, Yue Guangyong, Hu Rui, Hu Tanghui, Zhao Xiaoyu

24

Application of Breakthrough Innovation Technology in Integrated Grinding Production Line

2013.5

2013 Cement Powder Grinding New Technology Exchange Conference Proceeding

ISBN 978-988-12060-2-2

Tian Jian, Wang Jun, Hu Rui, Zhao Xiaoyu

25

Valuable Elements Recovery and Harmless Disposal Technology for Recycling of Industrial Waste (Nickel Alloy Slag)

2013.5

2013 Cement Powder Grinding New Technology Exchange Conference Proceeding

ISBN 978-988-12060-2-2

Tian Jian, Hu Tanghui, Hu Rui, Yue Guangyong

26

Deep Recycling Technology of Steel Slag Regeneration Resource

2013.5

2013 Cement Powder Grinding New Technology Exchange Conference Proceeding

ISBN 978-988-12060-2-2

Tian Jian, Zhao Xiaoyu, Hu Rui, Wang Jingdi

27

Research and Application of Post Grouting bored pile in Backfill Fly Ash Geology

2013.5

2013 Cement Powder Grinding New Technology Exchange Conference Proceeding

ISBN 978-988-12060-2-2

Tian Jian, Wang Jingdi, Wei Tao, He Baoshan, Zhao Xiaoyu, He Jin

28

Gradient-decent Steel Slag Surface Energy Technique of Valuable Metal Segregation

2013.1

2013 Beijing International Environmental Technology Conference Proceeding

Tian Jian, Wang Yang, He Jin, Yue Guangyong

29

Developing Low Carbon Cement to Promote Cement Industry Innovation

2010.07

China Building Materials Daily

CN11-0073

Tian Jian

30

Study on Microstructure and Activation Properties of Magnetic Base Surfactant Slag Cement

2006.1

Journal of Lanzhou University (Natural Science Edition)

ISSN 0455-2059

Tian Jian

31

Study on the Performance of Fly Ash Instead of Alunite as Expansive Agent

2006.03

Journal of Lanzhou University (Natural Science Edition)

ISSN 0455-2059

Tian Jian

32

International Trends in Management and Our Coping Strategies

2004.4

Journal of Road of Hope

ISSN 1003-3432

Tian Jian

33

Franchise-Business Revolution in the New Century

2004.4

Journal of Road of Hope

ISSN 1003-3432

Tian Jian

34

Construction Thoughts of State-owned Assets Management, Incentive, Supervision and Restraint Mechanism in Xuancheng Region

2001

China Science and Technology Forum

ISSN 1002-6711

Tian Jian

35

Discussion on Material Movement in Drying Bin of Mill

1990.1

Cement Industry Technology

ISSN 1008-0473

Tian Jian
4)The Retrieval and Collection of Papers
No

Paper Title

Published Time

Journal or Press

Index

Author sort

Remarks

1

Studies on Geology of the Backfilling Fly Ash and the Foundation Treatments

2011

Advances in Civil Engineering and Architecture

ISBN-13978-3-03785-125-8

1/4

2

C3S Structure Studied by EBSD and Characterization Calculation of Its Nanometer Grain

2011

Journal of Synthetic Crystals

ISSN 1000-985X

1/3

3

Establishment and Calibration of C3S EBSD Database

2011

Journal of the Chinese Ceramic Society

ISSN 0454-5648

1/3

4

Applications of Efficient Energy-saving Cement Grinding Technology and Equipment

2011

Advanced Materials Research

ISBN-13 978-0-87849-201-5
ISSN 1022-6680

1/4

5

Extensity of C3S EBSD Database and Its Structure Calculation

2010

2010 2nd International Workshop on Database Technology and Applications

ISBN 978-1-4244-6976-5

1/3

6

Studies of Effect of Surfactants on Properties of Slag Cement Mortar

2010

2010 International Conference on Computing, Control and Industrial Engineering

ISBN 978-0-7695-4026-9

1/3
China National Industry-University-Research Engineering Demonstration Lines
1. Anyang Jinhubo Slag Powder Production Base with Capacity of 900,000 Tons per Year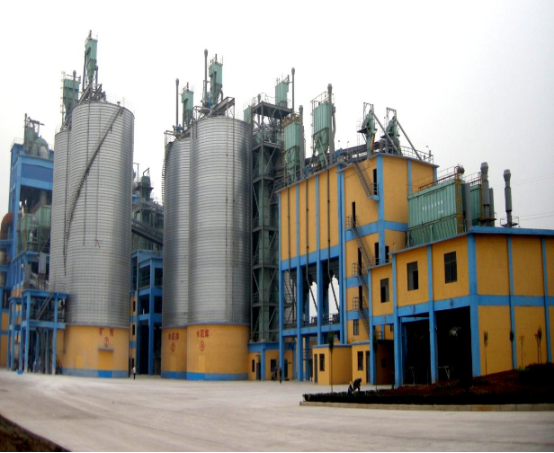 1) The system adopts industry university research achievements.
2) All equipment of the system achieve localization, and large-scale production.
3) the system has characteristics of high yield, low energy consumption, simple operation and reliable operation.
4) Arbitrary production of S75, S95 and S105 grade slag powder.
5) The production plant noise is small, and the waste gas and dust emission concentration is low, creating the best level in China.
Since the plant has been put into officially operation on June 1st, 2011, it has been running well and achieved good results:
Slag milling yield:120 ~ 140t/h.
Power consumption: 38 ~ 46 kwh/t.
Slag powder specific surface area: 420 ~ 500 m2/kg.
The product quality index reaches the national technical indicators of S105, S95, S75 All the equipment to achieve localization and large-scale, and the enterprise economic benefits, social benefits as well as environmental benefits are obvious.
2. Shandong Shunxing Slag and Cement Integrated Grinding Demonstration Line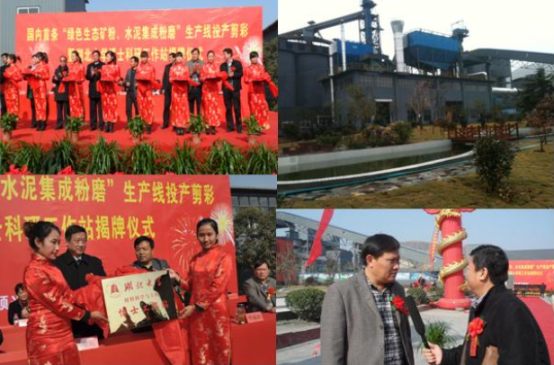 The project has adopted the "Green ecological mineral powder and cement integrated grinding key common technology" (multi applications of grinder, cement, slag, alloy slag, furnace slag, steel slag and tailings etc.), and produced the first domestic demonstration line which could high efficiently grind slag and cement. The major economic performance of the demonstration line is listed as follows:
Slag grinding:
Capacity of each machine: 60~80t/h.
Specific surface area: 450~500m2/kg.
Electricity consumption: 38~45kWh/t.
Cement grinding:
Capacity of each machine: 110~130t/h.
Specific surface area: 420~500m2/kg.
Electricity consumption: 26~28kWh/t.
This is a new strategic emerging industry in the domestic building material industry generated from the achievements of industry-university-research cooperation. It has leading and exemplary function for the long-term development of building materials industry as well as the overall economic and social development. It is an innovated industry model with intensive knowledge and technology, small consumption of resources, great growing potential and good comprehensive benefits. The industry fits in the requirements of the "the Twelfth Five-year" national strategic new industry development planning and the spirit of "Putting ecological civilization construction on the prominent position, focusing on the construction of technology innovation system with industry as the main part, guided by the market and industry-university-research cooperation" proposed in the 18th CPC National Congress Report.