(Translation)
Business License
Unified Social Credit Identifier No.: 914200000635336569
Name: Hubei University Tianshu Industry Research and Design Institute of New Energy Materials Co., Ltd
Type of company: Limited Liability Company (Sole proprietorship of natural person)
Address: 13F, Office Building of Faculty of Physics and Electronic Technology, Hubei University, No.368 Youyi Road, Wuhan, Hubei Province, P.R.China
Legal representative: Tian Jian
Registered capital: RMB Twenty Million Yuan
Established date: Mar. 20, 2013
Business Period with this license: From Mar. 18, 2013 to Mar. 20, 2033
Business scope:
Engineering design of building materials industry. Preparation of business plan. Project feasibility study report. Project application report. Fund application report. Import and export of goods or technologies. New building materials. New energy materials. R & D and sales of environmental protection equipment. Building decoration engineering. Design and construction of environmental protection projects. Decoration design and construction. Sales of metallic materials. Technical development and technical consultation.
Registration Authority: (Seal)
Hubei Administration for Industry and Commerce
Date: Feb. 14, 2017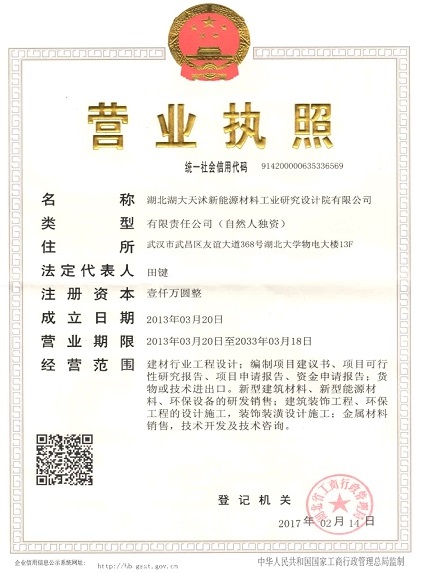 (Translation)
Engineering Design Qualification Certificate
Certificate No.: A242013462
Valid Until: Sept. 28, 2020
Name: Hubei University Tianshu Industrial Research and Design Institute of New Energy Materials
Economic Properties: Limited Liability Company (Natural person investment or holding)
Qualification Grade: Chemical Fossil Medicine Industry (Chemical Engineering), Grade B.
Building Materials Industry (Cement Engineering) , Grade B
May engage in the corresponding general contracting of construction projects, as well as project management and related technical and management services within the scope of permission of the qualification certificate. ******
Issued by (Seal): Ministry of Housing and Urban - Rural Development, P.R.C.
Date: Jun. 14, 2018
No.: AZ 0160100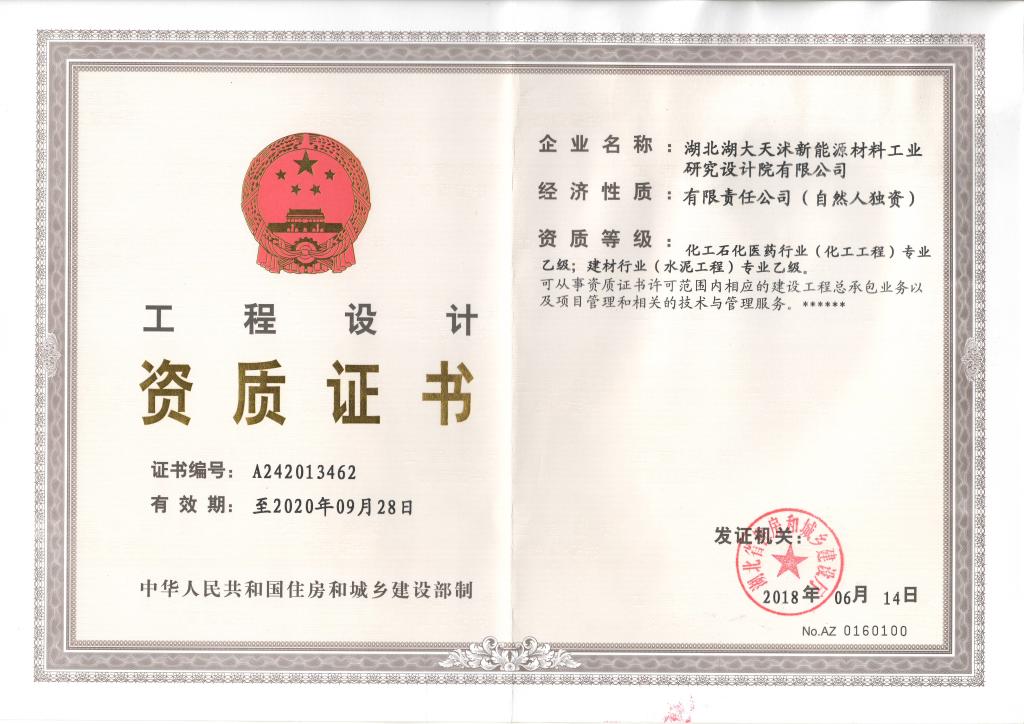 (Translation)
Guangdong Zhongjian Certification Co., Ltd
Quality Management System Certificate
Certificate No.:0070013Q13287ROS
We hereby certificate that
Hubei University Tianshu Industrial Research and Design Institute of New Energy Materials
13F, Office Building of Faculty of Physics and Electronic Technology, Hubei University, No.368 Youyi Road, Wuhan, Hubei Province, China
by reason of its
Has been awarded this certificate for compliance with the standard
GB/TI9001-2008 idt ISO9001:2000
The Quality Management System Applies in the following area:
Engineering Design of Building Materials Industry
Date of Issue: Dec. 13, 2013 Valid Until: Dec. 13, 2016
Signature:
……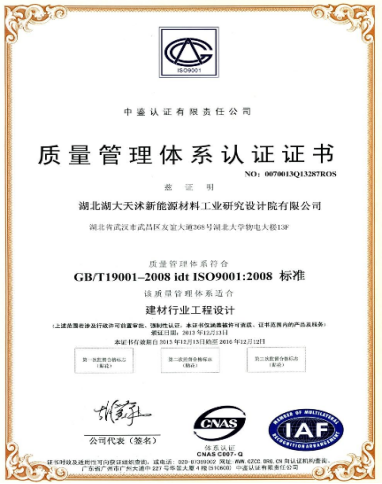 (Translation)
No.: 15355596
Trademark Registration Certificate

Tianshu
Registered Person: Hubei University Tianshu Industrial Research and Design Institute of New Energy Materials
Address: 13F, Office Building of Faculty of Physics and Electronic Technology, Hubei University, No.368 Youyi Road, Wuhan, Hubei Province, China
Registered Date: Jan 28, 2016
Valid Until: Jan. 27, 2026
Signature:
Issued by: Trademark Office, Administration for Industry and Commerce, P.R.C. (Seal)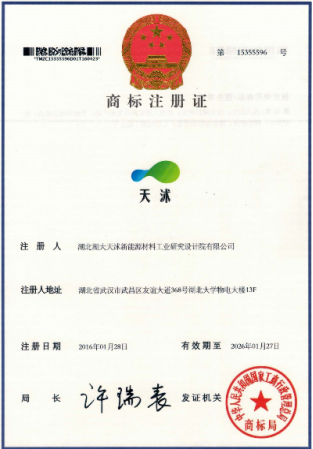 (Translation)
Certificate of High & New Technological Enterprise
Name: Hubei University Tianshu Industrial Research and Design Institute of New Energy Materials
Certificate No.: GR201542000575
Issued Date: Oct. 28, 2015
Valid Period: Three Years
Issued by:
Science and Technology Department of Hubei Province. (Seal)
Department of Finance of Hubei Province. (Seal)
Hubei Provincial Office, SAT. (Seal)
Hubei Local Taxation Bureau. (Seal)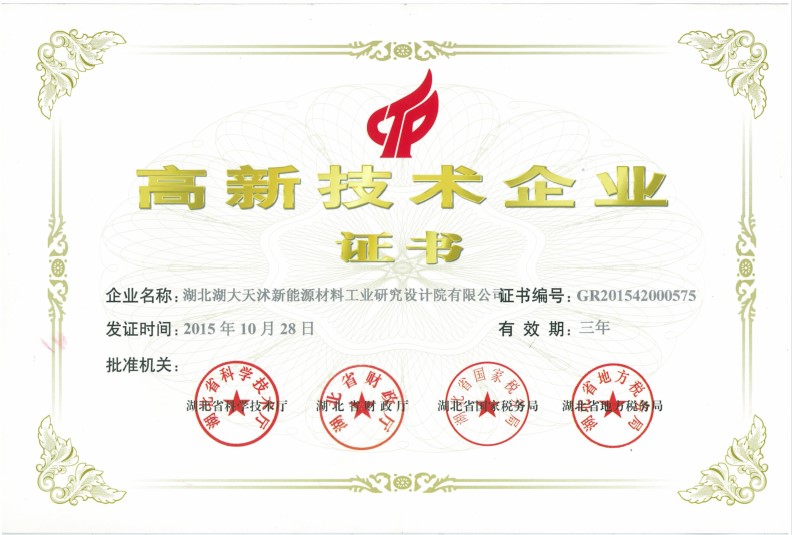 Credit Ranking Certificate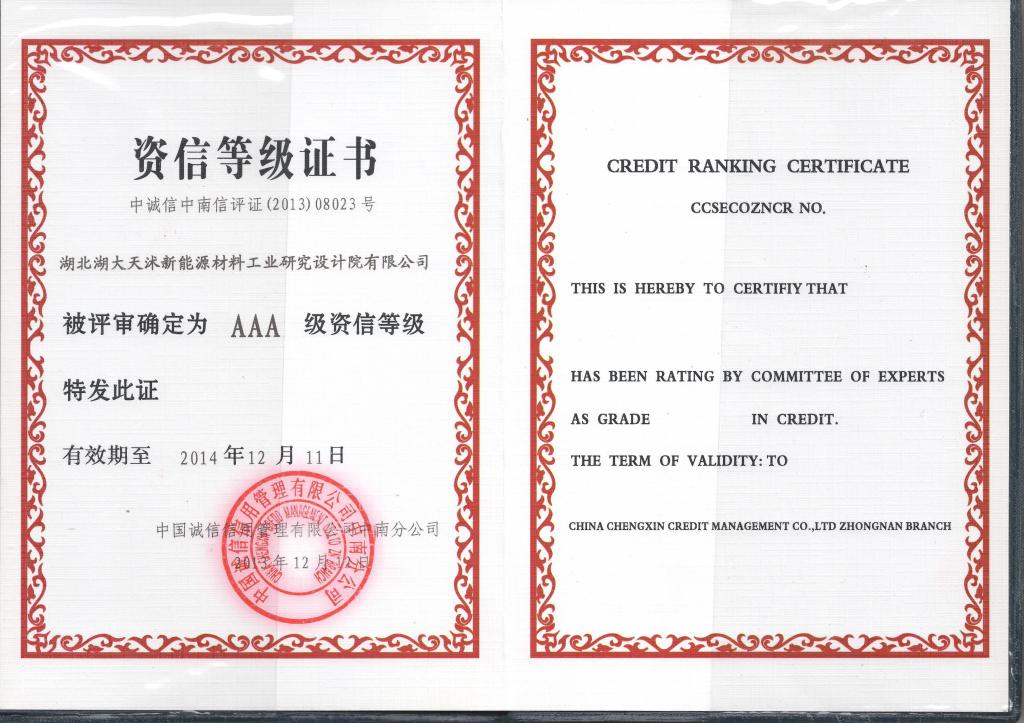 China Small and Medium Enterprise Good Faith Demonstration Unit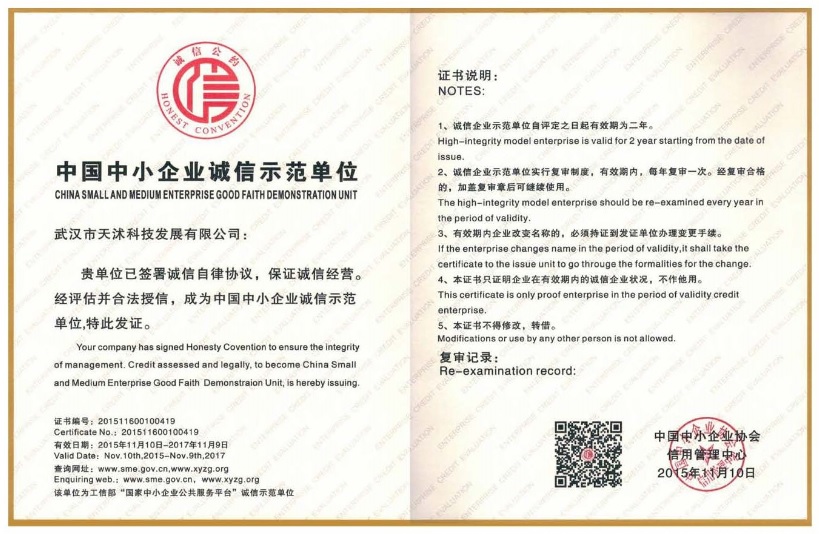 (Translation)
Institutional Credit Code Certificate
No.: 0022704881
Code: G1042010603363100A
Name: Hubei University Tianshu Industrial Research and Design Institute of New Energy Materials Co., Ltd
Address: 13F, Office Building of Faculty of Physics and Electronic Technology, Hubei University, No.368 Youyi Road, Wuhan, Hubei Province, P.R.China
Valid Until: to Apr. 7, 2018
Issued Date: Apr. 8, 2013 (Seal)
Issued by: Credit Reference Center, THE PEOPLE'S BANK OF CHINA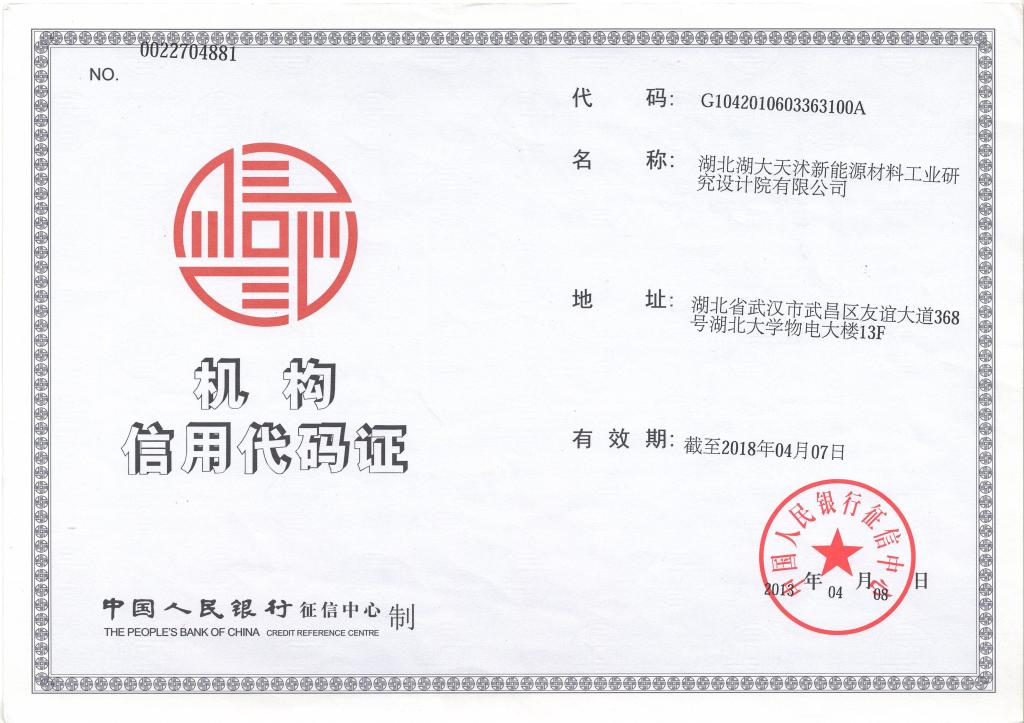 (Translation)
No.: 13096
Certification
Council Member of the fourth Congress of Journal of Environment Engineering
Name: Hubei University Tianshu Industrial Research and Design Institute of New Energy Materials
(Seal) Editorial Office, Journal of Environment Engineering
Date: December, 2013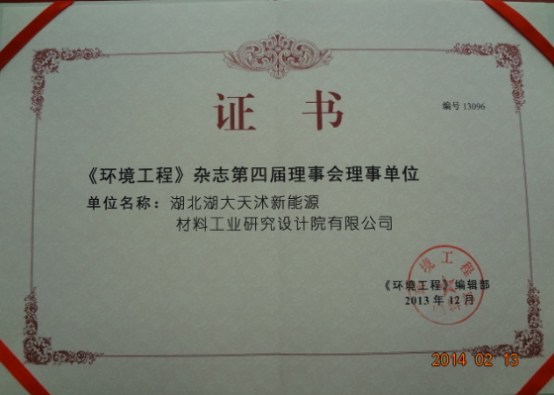 (Translation)
Awarding Wuhan Tianshu Technology Development Co., LTD
2012 Annual the Best Practical Technology and Equipment Enterprise
Science Popularization Committee of Chinese Ceramic Society (Seal)
China Building Materials Industrial Technology Information Institute (Seal)
Ecological Development Union International (Seal)
Date: Nov. 6, 2012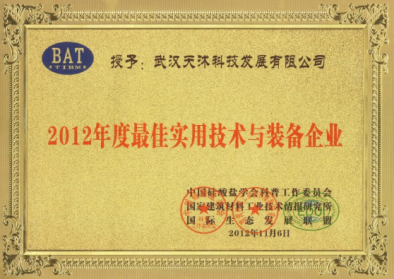 (Translation)
Awarding Wuhan Tianshu Technology Development Co., LTD
The Best Strategic Partner
Science Popularization Committee of Chinese Ceramic Society (Seal)
China Building Materials Industrial Technology Information Institute (Seal)
Date: Nov. 6, 2012